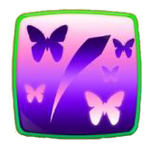 The Butterfly Knife is an unlockable blade in Fruit Ninja. It has a purple color and leaves purple butterflies behind. It is a rather thin blade. Its rarity in Fruit Ninja and Fruit Ninja 2 is Rare. In Classic, it is an Apprentice blade.
Description
"

"Fly away with this colorful blade."

"

 

— Fruit Ninja 
"

"A beat of these butterfly wings can cleave a coconut."

"

 

— Fruit Ninja 2 
Power
Fruit Ninja:
When using this blade, the fruit would hover in midair for a brief moment before falling. This power could be useful to score large combos, although there is not a long time before the fruits fall down, so it can be a bit tricky without proper accuracy.
Now, this blade's power is being re-worked.
Fruit Ninja Classic:
Fruit hang briefly at the top of their arcs.
Fruit Ninja 2:
Currently, this blade has no power.
Its upcoming ability will be called Fruit Flutter.
How to unlock
Fruit Ninja:
Previously, this blade required the player to reach level 18 to unlock.
Now, this blade can be obtained from boxes.
Fruit Ninja Classic:
Reach level 13 to reveal power.
Fruit Ninja 2:
This blade can be unlocked through events.
Notes
Added as part of Update 1.3.1 on July 8, 2010.
---
Community content is available under
CC-BY-SA
unless otherwise noted.