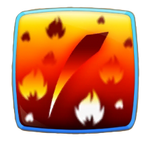 The Flame Blade is an unlockable blade in Fruit Ninja. It is an orange-colored blade that leaves a trail of fire and smoke behind. Its rarity in Fruit Ninja is Common. In Classic, it is an Initiate blade.
Description
"

"Unleash your fury with this hot blade."

"

 

— Fruit Ninja 
Power
Fruit Ninja:
Previously, this blade allowed the player to level up faster. However, it would attract bombs near it when used.
Now, this blade's power is being re-worked.
Fruit Ninja Classic:
This blade will double the amount of exp earned at the end of any round. However, bombs will gravitate towards this blade any time it is used. This can be very dangerous in Classic, as any accidental contact with a bomb will promptly end the match.
How to unlock
Fruit Ninja:
Previously, this blade required the player to reach level 10 to unlock.
Now, this blade can be found in boxes.
Fruit Ninja Classic:
Reach level 10 to reveal power.
Notes
Added as part of Update 1.3.2.
Initially called Fire Blade.
Handicap: Bomb attraction to your blade is enabled (Classic & Arcade Only). And 2x XP.
---