Great Wave is an unlockable dojo in Fruit Ninja and Fruit Ninja Frenzy. It is inspired by Katsushika's painting of The Great Wave off Kanagawa. Its rarity level is Ancient. In Classic, it is an Apprentice dojo.
Description
"

"The famous Great Wave. A perfect backdrop for slicing fruit!"

"

 

— Game Description 
Power
Fruit Ninja:
Previously, the Great Wave dojo would have a chance of spawning waves containing fruit.
Now, this dojo's power is being re-worked.
Fruit Ninja Classic:
This dojo will have a chance to spawn waves containing 10 fruit each at random moments during rounds. It works well when combined with blades whose powers make fruit linger or stay in place a moment longer.
How to unlock
Fruit Ninja:
Previously, the great wave dojo required the player to reach level 12 in order to be unlocked.
Now, this dojo can be obtained from boxes or leveling up.
Fruit Ninja Classic:
Reach level 12 to reveal power.
Gallery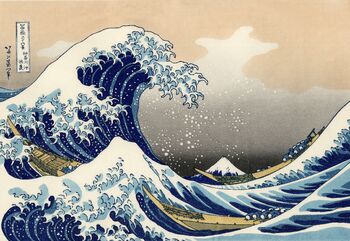 ---