This is removed!! But we can use this in Classic, Zen And Arcade Mode!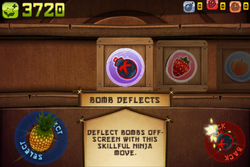 Gutsu's Cart
is located in the
Dojo
section of the market on the IOS and Andoid versions. He sells the player various power-ups to help improve game performance.
Power-ups
Power-Ups:
Bomb Deflects: "Deflect Bombs off-screen with this skillful ninja move." Use this powerup to deflect the bomb instead of accidentally slicing it. Up to three Bomb Deflects can be used per game. 
Berry Blasts: "Strawberries will explode when you slice them, and are worth 5 points! And Destroy And Push All Fruits And Bombs Within Radius". When a strawberry is sliced, besides providing 5 points, destroy all fruits nearby (making they enter a combo even though the player haven't sliced them) and push away bombs near this fruit. 
Peachy Times: "Peaches will give you extra time in Arcade and Zen Mode." Sliced peaches will give 2 more seconds in Arcade and Zen modes.
Starfruit
Power-ups can be purchased for

. The prices for power-ups are as follows:
Bomb Deflects:
3 Bomb Deflects = 350
6 Bomb Deflects = 600
9 Bomb Deflects = 800
Berry Blasts and Peachy Times:
3 Games = 350
5 Games = 500
10 Games = 900
Each power-up is used per round played relevant to the game mode. For example, Bomb Deflects will not be applicable in Zen Mode, and Peachy Times do not count in Classic Mode and thus does not get used up. However, Berry Blasts is currently the only power-up that can be played in any mode. None of the power-ups are used in Online Versus mode. Peachy Times cannot be purchased in the free version since it is not needed. Bomb Deflects are only used up when the player hits a bomb.
Purchasing starfruit
Additional

may be purchased here as well. There are five packs offered:
3000 - $0.99
12000 - $2.99 
25000 - $4.99 
60000 - $9.99 
150000 - $19.99 
Pro - 500000 (ProMode) - $64.99
Pro - 1000000 (ProMode) - $119.99
Pro - 2000000 (ProMode)  - $209.99
---
Community content is available under
CC-BY-SA
unless otherwise noted.