Old Glory is an unlockable blade in Fruit Ninja and Fruit Ninja Frenzy that represents the American flag. When slicing, a picture of the American flag will act as the trail.
Description
"

"Declare your Independance with this Blade."

"



 
— Dojo Description 
Power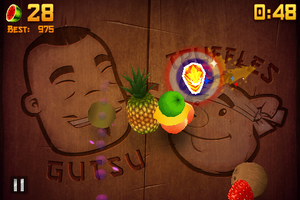 "

"Slow motion special fruit"

"



 

— Attribution 
Old Glory affects more than fruit (see list below), mainly any special/bonus items. Items will be highlighted with a ringer that disappear over times upon entry. Affected items move extremely slowly across the screen (as if Freeze was active) and linger to the point of being impossible to miss.
Items Affected:
Berry Blasts
Double points bananas
Dragon Fruit
Freeze bananas
Frenzy bananas
Ghostly Traps
Golden Dragon Fruit (King Dragon Dojo)
Gutsu's crates
Peachy Time
Pomegranates
Starfruit
How to unlock
Reach level 3 to reveal power.
Notes
Added as part of Update 1.3.1.
Combines quite well with Truffles & Gutsu's background and power-ups.
---