THIS MODE HAD BEEN DISCONTINUED AS OF THE MOST RECENT UPDATE!! STAY TUNED TO SEE IF IT WILL BE REINTRODUCED!!!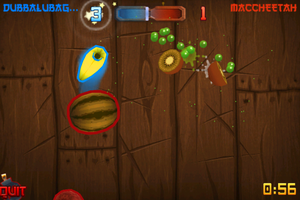 Multiplayer Mode is a game mode included on mobile devices such as the iPod. It enables players to play against other people in the world with a click of a button. Rounds in Multiplayer Mode last one minute. The Multiplayer Mode lobby features an auto-match feature that will automatically connect you to a player doing the same thing. It also includes an 'Invite Friend' option, where you can invite friends to play against you.

Scoring
Multiplayer Mode, like other modes, has a unique scoring system. There are three types of fruit: Blue fruit, red fruit, and white fruit. Blue fruit is your fruit, and you will gain normal points for it. Red fruit is your opponents fruit. You'll lose three points if you slice one. White fruit is the rarest fruit in Multiplayer Mode, and will grant three points to the player who slices it first. White fruits are often what decide the winner of the game, along with combos. If a white fruit is sliced in a combo, you will earn points for the score of a normal combo, plus two points. It seems that when you're winning, you will get more red fruit than blue, and when you're losing, you get more blue fruit than red.
Sensei's Swag
The following blade is only unlocked via Online Versus:
---
Community content is available under
CC-BY-SA
unless otherwise noted.