We're Getting Mutants in the MCU - The Loop
Play Sound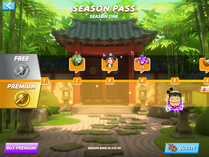 The season pass functions similarly to leveling up. The player has to gain season points in order to level up and receive rewards. The season pass will last a certain amount of days. There are two tiers to the season pass: Free and Premium. Players with the default will be able to gain all the rewards in that tier. However, they will be blocked from receiving the rewards from the premium tier unless they have the premium version of the pass. Every level of the season pass has a reward of some kind.
Obtaining
The season pass is available by default to all players. The premium version can be purchased for $9.99. If the player wants the premium pass and a few extra levels, they can buy the season pass bundle for $14.99.
Leveling up
Players earn season points through various means. The main will be through daily quests and seasonal quests. Season points will also be gained through events, even if the player didn't participate in them.
Rewards
Season One:
Season One Rewards
Level
Reward
Regular
Premium
1 - 5
Watermelon box, Gwen,

5 gems

Sensei Taunt
6 - 10
Pineapple box, 5 Fruitilizer, Bamboo Blade
Dragonfruit box, 30 gems
11 - 15
Watermelon Avatar, 5 Fruitilizer, 3 Golden apple tickets
Pineapple box, Lightning

Strike Powerup

16 - 20
Pineapple box, Truffles Avatar
Dragonfruit box, Cosmic Berry box,

300 coins

21 - 25
50 Blade Shards, 10 gems
Pineapple box, Truffles Taunt,

Dragonfruit box

26 - 30
Avatar, Pineapple box, 150 coins
30 gems, Sakura Blade
31 - 35
10 Fruitilizer, Sensei Avatar, Pineapple box,

3 golden apple tickets

Sensei Taunt
36 - 40
3 golden apple tickets, Watermelon box,

Pineapple box

Lock Powerup, Dragonfruit box
41 - 45
450 coins, Truffles Taunt, Watermelon box
Cosmic Berry box
46 - 50
Watermelon box, Sensei Taunt, 5 Fruitilizer
300 coins, Gutsu Avatar
51 - 55
10 gems, Watermelon box, 150 coins
Dragonfruit box, Pineapple box
56 - 60
Sensei Taunt, Watermelon box, 300 coins
50 Blade Shards, Truffles Taunt
61 - 65
5 Fruitilizer, Avatar, 10 gems, Dragonfruit box
Cosmic Berry box
66 - 70
Pineapple box, Gutsu
30 gems, Dragonfruit box, Oni Skin
Season Two:
Season Two Rewards
Level
Reward
Regular
Premium
1 - 5
Veteran Blade, 150 coins
Sensei, 10 gems, 3 seedlings,

500 coins

6 - 10
Watermelon Box, 3 Fruitilizer,

50 Blade Shards

2 Pineapple Box, 10 gems, 500

coins, 50 Blade Shards

11 - 15
Pineapple Box, 150 coins
2 Dragonfruit Box, 10 gems, 1000 coins
16 - 20
Dragonfruit Box, Pineapple Box,

10 gems

Harlequin Blade, 20 gems, 3 seedlings,

3 Fruitilizer, 500 coins

21 - 25
10 gems, 150 coins
Cosmic Berry Box, 20 gems, 3 Fruitilizer,

500 coins, 50 Blade Shards

26 - 30
Tara, Cosmic Berry Box,

Dragonfruit Box, 50 Blade Shards

Rinjin, Cosmic Berry Box,

20 gems, 1000 coins, 3 Fruitilizer
Season Three:
Season 3 Rewards
Level
Reward
Regular
Premium
1 - 5
150 coins, Tara taunt
500 coins, 10 gems,

3 seedlings, Sanguo

6 - 10
150 coins, Watermelon box,

3 Fruitilizer

500 coins, 10 gems,

2 Pineapple boxes, Hoshi taunt

11 - 15
Pineapple box, Hoshi taunt
1000 coins, 10 gems, 2 Dragonfruit boxes
16 - 20
Pineapple box, 10 gems, Tara taunt
500 coins, 10 gems, 3 fruitilizer, 3 seedlings,

Tara taunt

21 - 25
150 coins, 50 blade shards
500 coins, 20 gems, 50 blade shards,

Cosmic Berry box, Tara taunt

26 - 30
10 gems, Dragonfruit box, Cosmic Berry box,

Hoshi taunt

1000 coins, 20 gems, Hoshi taunt, Cosmic Berry box,
Season Four:
Season 4 Rewards

| Level | Regular | Premium |
| --- | --- | --- |
| 1-5 | 150 coins, 3 tickets | 500 coins, 3 seedlings, 10 gems, Pugsquash |
| 6-10 | 3 fruitiliser, Watermelon box, 150 coins, | Watermelon box, 500 coins, Pineapple box, 10 gems, 3 fruitiliser |
| 11-15 | Watermelon box, Shiba | 500 coins, Pineapple box, 500 coins, Dragonfruit box, 10 gems |
| 16-20 | Pineapple box, 10 gems, Pineapple box | 3 fruitiliser, 20 gems,Dragonfruit box, 500 coins,3 seedlings |
| 21-25 | 150 coins, 50 shards | 20 gems, 3 tickets, Cosmic Berry box, 50 shards,500 coins |
| 26-30 | Dragonfruit box, 10 gems, Dragonfruit box, Northern Lights Blade | 3 fruitiliser, 1000 coins, Cosmic Berry Box, 20 gems,The Juicer |
Season Five:
Season 5 Rewards

| Level | Regular | Premium |
| --- | --- | --- |
| 1-5 | 150 coins, 3 tickets | 500 coins, 3 seedlings, 10 gems, Toriki |
| 6-10 | 3 fruitiliser, Watermelon box, 150 coins | Watermelon box, 500 coins, Pineapple box, 10 gems, 3 fruitiliser |
| 11-15 | Watermelon box, Hoshi | 500 coins, Pineapple box, 500 coins, Dragonfruit box, 10 gems |
| 16-20 | Pineapple box, 10 gems, Pineapple box | 3 fruitiliser, 20 gems,Dragonfruit box, 500 coins,3 seedlings |
| 21-25 | 150 coins, 50 shards | 20 gems, 3 tickets, Cosmic Berry box, 50 shards,500 coins |
| 26-30 | Dragonfruit box, 10 gems, Dragonfruit box, Sakura Blade | 3 fruitiliser, 1000 coins, Cosmic Berry Box, 20 gems, Glacier Blade |
Season Six:
Season 6 Rewards

| Level | Regular | Premium |
| --- | --- | --- |
| 1-5 | 150 coins, Pineapple box | 500 coins, Rinjin, Pineapple box, 10 gems, 500 coins |
| 6-10 | 150 coins, Pineapple box, Dragonfruit box | 500 coins, 20 gems, Dragonfruit box, 500 coins, Dragonfruit box |
| 11-15 | 10 gems, Dragonfruit box, Katsuro | Cosmic Berry box, 20 gems, 1000 coins, Cosmic Berry box, Tiger Blade |
Season Seven:
Season 7 Rewards

| Level | Regular | Premium |
| --- | --- | --- |
| 1-5 | 150 coins, Pineapple box | 500 coins, Dragonfruit bix, Pineapple box, 10 gems |
| 6-10 | 150 coins, Pineapple box, Dragonfruit box | 500 coins, 20 gems, Dragonfruit box, 500 coins, Dragonfruit box, |
| 11-15 | 10 gems, Dragonfruit box, Dragonfruit box | Cosmic Berry box, 20 gems, 1000 coins, Cosmic Berry box, Janglehead |
Season Eight:
Season 8 Rewards

| Level | Regular | Premium |
| --- | --- | --- |
| 1-5 | Truffles tuant, Pineapple box | 500 coins, Sensei, Pineapple box, 10 gems, |
| 6-10 | 150 coins, Pineapple box, Dragonfruit box | 500 coins, 20 gems, Dragonfruit box, 500 coins, Dragonfruit box |
| 11-15 | 10 gems, Dragonfruit box, Truffles taunt | Cosmic Berry box, 20 gems, 1000 coins, Cosmic Berry box, Mari |