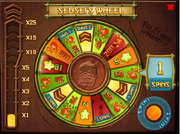 Sensei's Wheel is a spinning wheel in Fruit Ninja Frenzy that allows one to obtain certain prizes, such as Juice, Starfruit and additional spins. When spun, the "spins" on the right side will show how many spins you have left and the pick attached to the spins counter that points at the object will show what you will obtain. Additional spins can be purchased for Facebook Credits.
Multiplier Gauge
On the left side of the screen is the multiplier gauge, a bar that increases with each successful spin but decays as soon as any prize other than additional spins is obtained. The multiplier gauge also can be increased to a maximum of 5 by playing multiple days in a row. When you spin the wheel, depending on what multiplier the gauge is on, your prize will be multiplied by that amount.
Trivia
Community content is available under
CC-BY-SA
unless otherwise noted.