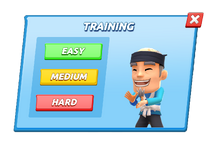 In Fruit Ninja 2, the player can train with Sensei and sharpen their skills. Victories in this mode do not count towards the league, but they do count towards the seasonal quest for them. Besides the quest rewards, you cannot earn anything besides exp. This mode is mainly for practice, as well as testing powerups and blades.
Difficulty
You can train with Sensei on three difficulty levels: Easy, Medium, and Hard. With each increase in difficulty Sensei will become more accurate with his swipes. Not only that, but he will also use powerups to counter your scores and to boost his own.
Knowing which powerups and blades he will use will be helpful in the harder difficulties. Carefully plan which powerups and blades you will use. As long as you keep up your combos and make use of your powerups, this mode shouldn't be difficult.