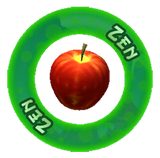 Zen Mode is one of the three main modes in Fruit Ninja. In this mode, the player must slice as much fruit as they can in 90 seconds. There are no bombs in this mode, nor are there any Dragon Fruit, Pomegranates, Bonus Bananas, or Smoothies. Criticals cannot be scored. In Fruit Ninja 2, powerups can't be used in this mode.
Fruit Ninja Frenzy
Frenzy
List of Stars
Full house!
Checkers!
Three of a kind
Fruit salad
Fruits basket
Mega mix!
Succulent!
It's apples!
Banana cake!
Lovely bunch
Melon mania
Passion punch
Pear tree
Vitamin C!
Lemon line-up
Scurvy cure
Mango smoothie!
Got the sweats!
Full punnet!
Amazing! (7 fruit combo or more)
Exquisite! (7 fruit combo or more)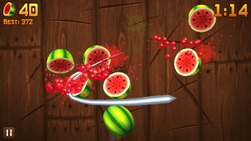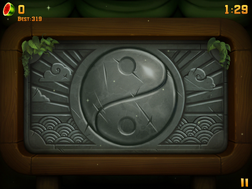 Sensei's Swag
The following blades used to be exclusively obtained through achievements in Zen Mode:
Flame Blade - Slice a combo after the timer ends (Must hit 0:00).
Bamboo Shoot - Play a full game every day for five consecutive days.
Rainbow Blade - Slice 6 Peachy Times in one sitting.
Notes
This mode was first released on Version 1.2 on May 21, 2010.
Zen was unavailable in the older versions of the iOS Version Of the free version of Fruit Ninja 
---